Love art? Like meeting new people? …
Join the McMichael Volunteer Committee
The McMichael Volunteer Committee is a dedicated team of McMichael members, from all walks of life, who share a passion for the arts and are committed to volunteerism. We organize events and raise funds, both to enhance the visitor experience and to support children's education at the McMichael.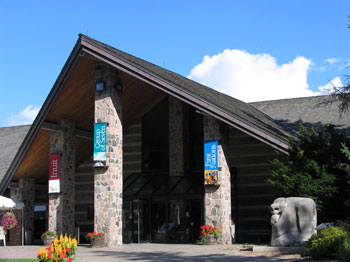 Fundraising is the Committee's major on-going activity, and over the years we have raised thousands of dollars to support the McMichael in many ways. We support Children's Education initiatives at the McMichael. We supplement and compliment the programs of the McMichael. We've long sponsored the Sunday Concert Series, featuring talented members of CAMMAC, the Canadian Amateur Musicians Association. We've financed numerous expenditures at the gallery, including the upgraded Audio Visual equipment in the theatre.
Our most important initiative, however, is our funding of the Visual Outreach Initiative Creating Empowered Students (VOICES) program. Through VOICES, the McMichael Education department and the York Region District School Board work together to deliver an innovative learning opportunity for children. This creative program has been one of our proudest achievements, changing the lives of both the students and teachers involved.
For those who are passionate about Canadian culture and want to contribute to the artistic community, the McMichael Volunteer Committee provides a wonderful opportunity to meet interesting people, develop your skills, enjoy great works of art and most importantly, make a difference.
McMichael Volunteers:
Staff the Information Desk and help out in the gallery.
Spearhead flagship fundraising events like the McMichael Volunteer Annual Art Sale.
Support visitor programming, including presenting the Sunday Concert Series.
Learn more about becoming a volunteer
Have a passion for arts and learning? …
Become a docent
Docents are trained volunteers who deliver tours of our permanent collection and special exhibitions – introducing kids and adults to Canadian art, culture and history.
Learn more about becoming a docent
Click Here to visit the web site of
the McMichael Canadian Art Collection
McMichael Volunteers celebrate
after another record-breaking Autumn Art Sale